What is camlock fitting?
What is camlock fitting?
Do you know what's camlock fittings? Please see belows:
What is camlock fitting material:
Camlock fittings are made of high quality aluminum alloy or stainless steel or brass(different material available for choice).

What is camlock fitting models:
We have various models of A, B, C, D, E, F, DC and DP, which are suitable for medium such as water, hydraulic oil, some corrosive liquid, mechanical oil, diesel oil, various kinds of grease and emulsified oil, etc.

What is camlock fitting performance:
1. Pipeline can be easily connected and disconnected by using the camlock fittings. Very simple operation.
2. Camlock can save fuel: camlock fitting have separate valve on it, it can avoid fuel loss.
3. Camlock can protect environment: the pipeline can be disassembled and can be used next time, it is a recycle design.

What is camlock fitting Application:
Camlock is widely used in petrochemical, liquid storage and transportation, mechanical equipment, coal mine, agricultural irrigation and other application such as:
Pipeline which need quick disassembly,
Camlock can be used in Aerospace industry,
Metallurgical industry,
Pipeline on ship,
Chemical industrial,
Etc.

How to buy camlock fittings?
You can contact our sales manager Mr. Steven to get prices through wechat:stevein2008 Or by email: admin@pursueplumbing.com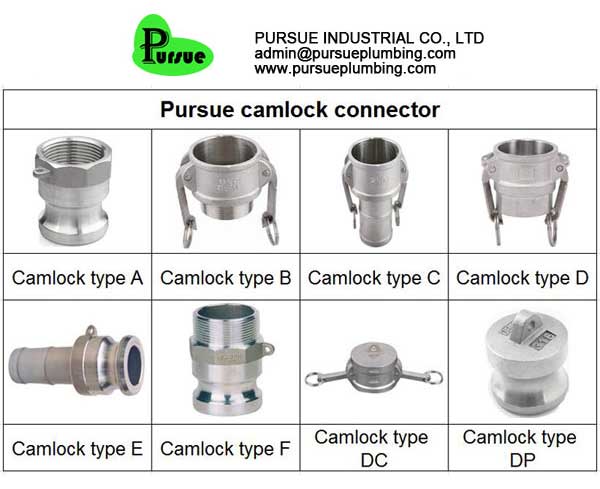 Camlock product list as below:
| | | | |
| --- | --- | --- | --- |
| Item No. | Item name | DN size | inch Size |
| PS24300 | Camlock A | DN15 | 1/2" |
| PS24301 | Camlock A | DN20 | 3/4" |
| PS24302 | Camlock A | DN25 | 1" |
| PS24303 | Camlock A | DN32 | 1-1/4" |
| PS24304 | Camlock A | DN40 | 1-1/2" |
| PS24305 | Camlock A | DN50 | 2" |
| PS24306 | Camlock A | DN65 | 2-1/2" |
| PS24307 | Camlock A | DN80 | 3'' |
| PS24308 | Camlock A | DN100 | 4'' |
| PS24309 | Camlock A | DN125 | 5'' |
| PS24310 | Camlock A | DN150 | 6'' |
| PS25320 | Camlock B | DN15 | 1/2" |
| PS25321 | Camlock B | DN20 | 3/4" |
| PS25322 | Camlock B | DN25 | 1" |
| PS25323 | Camlock B | DN32 | 1-1/4" |
| PS25324 | Camlock B | DN40 | 1-1/2" |
| PS25325 | Camlock B | DN50 | 2" |
| PS25326 | Camlock B | DN65 | 2-1/2" |
| PS25327 | Camlock B | DN80 | 3'' |
| PS25328 | Camlock B | DN100 | 4'' |
| PS25329 | Camlock B | DN125 | 5'' |
| PS25330 | Camlock B | DN150 | 6'' |
| PS26340 | Camlock C | DN15 | 1/2" |
| PS26341 | Camlock C | DN20 | 3/4" |
| PS26342 | Camlock C | DN25 | 1" |
| PS26343 | Camlock C | DN32 | 1-1/4" |
| PS26344 | Camlock C | DN40 | 1-1/2" |
| PS26345 | Camlock C | DN50 | 2" |
| PS26346 | Camlock C | DN65 | 2-1/2" |
| PS26347 | Camlock C | DN80 | 3'' |
| PS26348 | Camlock C | DN100 | 4'' |
| PS26349 | Camlock C | DN125 | 5'' |
| PS26350 | Camlock C | DN150 | 6'' |
| PS27360 | Camlock D | DN15 | 1/2" |
| PS27361 | Camlock D | DN20 | 3/4" |
| PS27362 | Camlock D | DN25 | 1" |
| PS27363 | Camlock D | DN32 | 1-1/4" |
| PS27364 | Camlock D | DN40 | 1-1/2" |
| PS27365 | Camlock D | DN50 | 2" |
| PS27366 | Camlock D | DN65 | 2-1/2" |
| PS27367 | Camlock D | DN80 | 3'' |
| PS27368 | Camlock D | DN100 | 4'' |
| PS27369 | Camlock D | DN125 | 5'' |
| PS27370 | Camlock D | DN150 | 6'' |
| PS28380 | Camlock E | DN15 | 1/2" |
| PS28381 | Camlock E | DN20 | 3/4" |
| PS28382 | Camlock E | DN25 | 1" |
| PS28383 | Camlock E | DN32 | 1-1/4" |
| PS28384 | Camlock E | DN40 | 1-1/2" |
| PS28385 | Camlock E | DN50 | 2" |
| PS28386 | Camlock E | DN65 | 2-1/2" |
| PS28387 | Camlock E | DN80 | 3'' |
| PS28388 | Camlock E | DN100 | 4'' |
| PS28389 | Camlock E | DN125 | 5'' |
| PS28390 | Camlock E | DN150 | 6'' |
| PS29400 | Camlock F | DN15 | 1/2" |
| PS29401 | Camlock F | DN20 | 3/4" |
| PS29402 | Camlock F | DN25 | 1" |
| PS29403 | Camlock F | DN32 | 1-1/4" |
| PS29404 | Camlock F | DN40 | 1-1/2" |
| PS29405 | Camlock F | DN50 | 2" |
| PS29406 | Camlock F | DN65 | 2-1/2" |
| PS29407 | Camlock F | DN80 | 3'' |
| PS29408 | Camlock F | DN100 | 4'' |
| PS29409 | Camlock F | DN125 | 5'' |
| PS29410 | Camlock F | DN150 | 6'' |
| PS30420 | Camlock DC | DN15 | 1/2" |
| PS30421 | Camlock DC | DN20 | 3/4" |
| PS30422 | Camlock DC | DN25 | 1" |
| PS30423 | Camlock DC | DN32 | 1-1/4" |
| PS30424 | Camlock DC | DN40 | 1-1/2" |
| PS30425 | Camlock DC | DN50 | 2" |
| PS30426 | Camlock DC | DN65 | 2-1/2" |
| PS30427 | Camlock DC | DN80 | 3'' |
| PS30428 | Camlock DC | DN100 | 4'' |
| PS30429 | Camlock DC | DN125 | 5'' |
| PS30430 | Camlock DC | DN150 | 6'' |
| PS31440 | Camlock DP | DN15 | 1/2" |
| PS31441 | Camlock DP | DN20 | 3/4" |
| PS31442 | Camlock DP | DN25 | 1" |
| PS31443 | Camlock DP | DN32 | 1-1/4" |
| PS31444 | Camlock DP | DN40 | 1-1/2" |
| PS31445 | Camlock DP | DN50 | 2" |
| PS31446 | Camlock DP | DN65 | 2-1/2" |
| PS31447 | Camlock DP | DN80 | 3'' |
| PS31448 | Camlock DP | DN100 | 4'' |
| PS31449 | Camlock DP | DN125 | 5'' |
| PS31450 | Camlock DP | DN150 | 6'' |